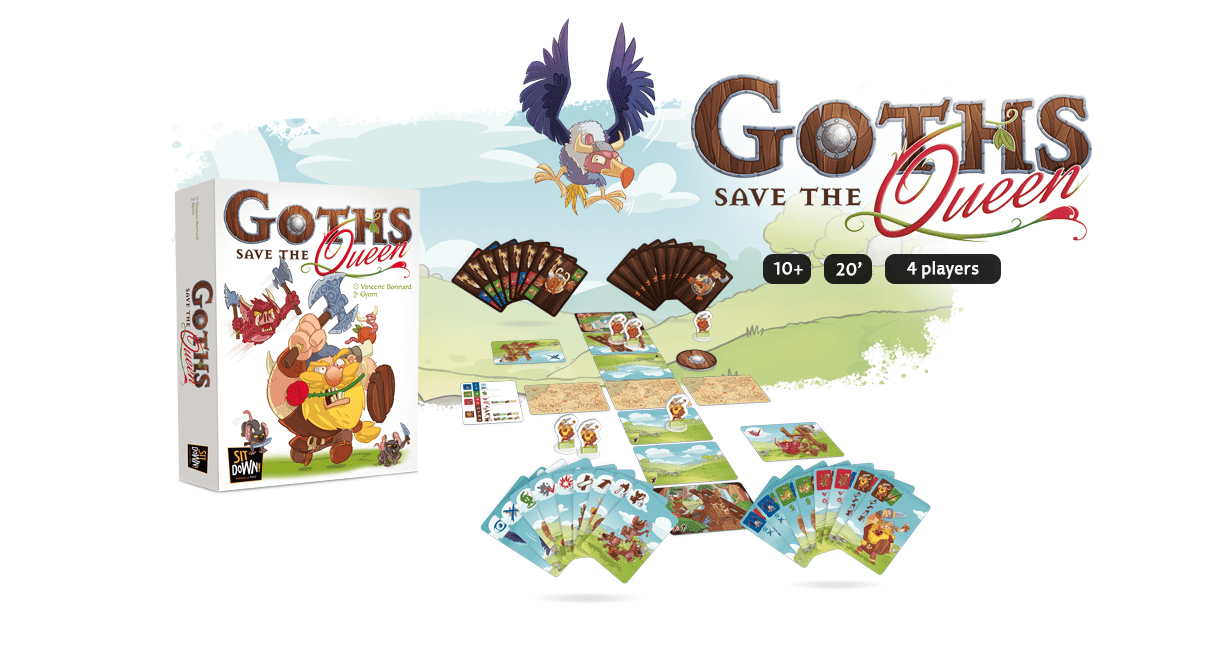 Ostrogoths & Visigoths had kept their rivalries relatively peaceful by marrying the daughter of one clan's king to the king of the other clan. And everything was fine. Until one day, vile brigands captured the young queen. Forgetting their alliance, the two sovereigns blamed each other for her disappearance, and went to war again, one trying to rescue his daughter, the other trying to rescue his queen. But the methods for communication in those times were not particularly reliable; there was no guarantee that the order issued can be correctly executed on the ground. As a result, the conflict quickly became a bit… chaotic.
In Goths Save The Queen, two teams (2-vs-2 — use two copies of the game to play at 3V3, 3V4 or 4V4) are fighting to save the Queen hidden in the middle of the table. Each team is composed of one player giving orders and another one trying to understand which order has been given.
To give an order, the King chooses a card and flips it onto the table to reveal two orders on its back, with no clue about which one is the right one. The warchief checks the battlefield, then tries to choose the right order with a card in hand. When both teams have chosen their cards, all of them are revealed, and if both cards match on a team, then the order is carried out. Some examples of orders: loading the catapult, firing with the catapult, progressing toward the Queen, looking at hidden cards in the middle to find the Queen, and avoiding traps...
Of course, within a team it is absolutely prohibited to make any sign or say anything to help the partner to guess the card that has been played.
Additional information
| | |
| --- | --- |
| Weight | N/A |
| Dimensions | N/A |
| Language | Multilingual EN+FR+DE+NL+ES |
Distribution
Austria: Pegasus
Belgium: Geronimo
Canada: Dude
France: Atalia
Germany: Pegasus
Luxemburg: Geronimo
The Netherlands: Geronimo
Components
6 Terrain cards with a Landscape side (4 plains & 2 forests)and a Barricade side;
3 Objective cards: one with a Trap side, one with a Plains side, and one with a Queen side;
16 King cards (8 cards for each king);
18 Warchief cards (9 cards for each warchief);
2 Catapult cards (1 for each clan);
2 Player Aid cards (1 for each clan);
6 Goth figurines (3 for each clan) + 6 bases;
4 Fog of War tokens (variant);
1 Initiative token.