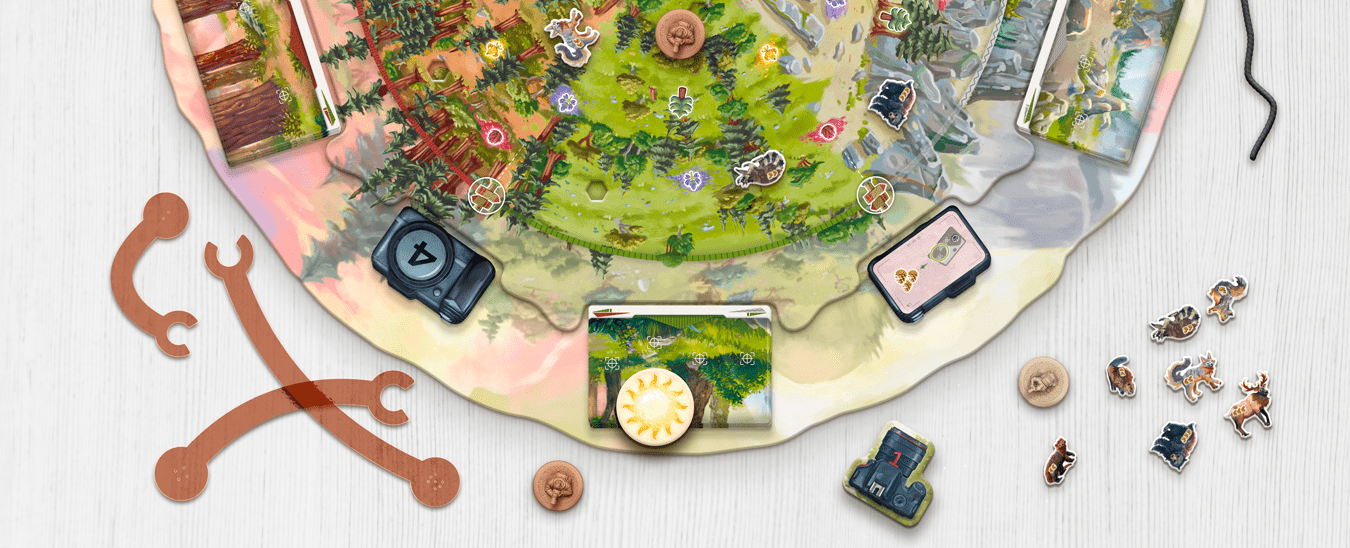 Where is the Retailer pledge deposit reward?
Instead of offering a pledge level for retail stores, we invite you to place your order later in the pledge manager (Gamefound).
For now, keep your money; Just back at the Squirrel Pledge level (€1) in order to receive our notifications.
You are here because you wish to back the REDWOOD Kickstarter-Exclusive Edition campaign.
Our desire to include shops and distributors in our campaign permits them to keep their usual discounts.
Shops that do not participate in the Kickstarter campaign cannot order the REDWOOD Kickstarter-Exclusive Edition at a later date.
Before backing, please make sure to read the following important information….
"Brick-and-Mortar" Shops Only!
Only physical ("brick-and-mortar") shops can participate; online shops are not eligible.
To take advantage of our offer, you will be asked to prove that you are ordering to stock a physical shop by registering on our website.
If you cannot prove it, your order will be canceled, and you will not be reimbursed.
In the Pledge Manager you will get the reduced (−50%) rate for "brick-and-mortar" shops. Keep Your Money Until the Pledge Manager goes live.
No information on the back of the box, really?
This edition sports only a beautiful illustration on the back of the box, and nothing else.
But this box is wrapped in a sleeve, on the back of which is added a sheet with all the necessary information for you to sell it: depictions of the contents, explanatory text, legal text, UPC/EAN… and then, the whole thing is shrinkwrapped.
You cannot pledge for less than 1 case:
• Core game & Expansion: 6 copies.
• Big Box: 3 copies.
The pledge manager will allow you to choose the language of the copies you order. Only one language per order.
In the pledge manager, you could also choose to order more than 1 case of REDWOOD under the same conditions; however, you must always order one of the following:
• Core game & Expansion: In multiples of 6 (12, 18, 24…).
• Big Box: In multiples of 3 (6, 9, 12…).
Important: From 2 cases (Core game & Expansion) or 4 cases (Big Box) on, you get a free copy (Core game & Expansion: 11+1, 17+1… Big Box: 11+1, 14+1…).
Are Shop Backers Like the Others?
Yes! The copies that you will receive are exactly the same as the ones shipped to all other backers!

In US, EU, AU, CA, UK, and CN customs taxes will have been paid by us before the goods arrive at our distributor/shipping hub.
Therefore, you will not have to pay them again when the goods are delivered to you.
VAT is neither included in the pricing mentioned on this page, nor in Kickstarter or Gamefound.
Of course, since we are a European company and we ship from within Europe, European stores having a valid VAT ID will not have to pay VAT.
Exception: since we are a Belgian company, Belgian stores will have to pay VAT.
We are currently discussing with our distributors the possibility for them to add your orders of REDWOOD Kickstarter-Exclusive Edition to their day-to-day shipments.
If that works out, shipping could be free if you reach their free shipping threshold.
In case shipping is not free (because you cannot reach the free shipping threshold or such a threshold does not exist), then you will be asked by the distributor to pay the shipping fee. Your order will be shipped to the address of your store. Before the pledge manger closes, we will inform you of the countries where our distributors will ship the REDWOOD Kickstarter-Exclusive Edition.
Shipping: What if Redwood is not distributed in your country?
Then you have to pay a shipping fee for sure!
Your order will be shipped through one of the logistics hubs that we selected.
You will pay these shipping costs via the pledge manager. Shipping costs will be collected according to your geographical location.
But there are three solutions to avoid having to pay shipping costs:
Pickup at the SPIEL'23 expo (Essen, Germany) in October is FREE (in case we have received the games and the show is not cancelled*).
Pickup at our office location (close to Namur, Belgium) is FREE.
* If this free pickup opportunity ends up being cancelled, then you will be asked to pay the regular shipping costs, according to the Shipping Policy section.
Indicative price for the shipping per case (Core / Expansion / Big Box)
ZONE 1: €30 / €15 / €30
ZONE 2: €45 / €30 / €45
ZONE 3: €90 / €60 / €90
ZONE 4: €115 / €80 / €115
ZONE 5: €175 / €120 / €175
Each case will be shipped separately but to the address of your store.
We do not ship to any countries that are not listed in the zones above. Sorry!
If your package gets lost by the fulfillment company, or is returned to us for some unforeseen reason, we will attempt to send it again at our expense. However, if the delivery failure is due to an error on your part, then the shipping costs will be entirely at your expense.
Please note that these reshipments, as well as shipments delayed because you did not fill out the pledge manager in time, will be processed after the entire fulfillment process is complete
Important: Shipments to the European Union, USA, Canada, United Kingdom, Australia, and China benefit from "Shipping Friendly" service, which is to say that backers in these countries do not have to pay import taxes!
We will do our best in order to arrange the delivery dates so that all backers (shops included) will receive their orders mostly at the same time.
A clear and complete PDF invoice will be sent to you right after the pledge manager has been closed. Do not forget that if your order is shipped by a distributor, if the shipment is not free, the distributor will also send you an invoice.
Later Availability of this Edition via Sit Down!
The Kickstarter-Exclusive Edition will be available via Sit Down! website and conventions we attend. Only a few hundred additional copies will be produced for that purpose. We will match the MSRP, with no possible discount during at least the first year.
The REDWOOD Retail Edition will be available for all after this edition has been received by most backers (shops included), creating an exclusivity window that should help stores build demand.
Check here the differences between the Retail and Kickstarter editions.
Release date of the Retail Edition is September 2023 –with a promo window at Gen Con 2023– which will be updated to a later date in case of production/shipments delays.
As with all campaign backers, stores also have the option of adding add-ons to their contribution via the pledge manager.
Add-ons benefit from the same discount as the game (-50%) and can be ordered in multiples of 6 copies.
List of available add-ons (remember to multiply the costs below by the number of copies):
– 6 Neoprene Mats:

€16

– 170± Wooden Tokens (core game)

€26

– 210± Wooden Tokens (core game + expansion + Big Box)

€34


+ Shipping costs.
Complete your registration